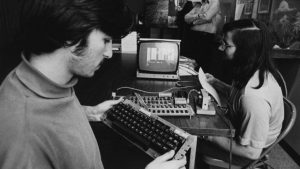 Although I'm not specially mythomaniac and I didn't particularly like some of Steve Jobs' personality either, I do like one of his quotes:
"The people who are crazy enough to think they can change the world are the ones who do."
I like it because I must admit that some of his "crazy" visions did change the world. At least, my world. Having a smartphone in my pocket has totally changed my life: I don't have to rely on my poor memory anymore (as Harry Potter's school director does with his magic wand, I simply store my thoughts in the Cloud with my finger), I'm connected to the whole globe and discover new unexpected things every day on a small screen… And, very importantly, I can switch it off and disconnect from all the above at any time.
Fifteen years ago (September 19, 2005) three friends: David, Josep and myself, had the "crazy" idea that the wind could be modelled by computing it on demand. Nobody was doing that at the time, probably because the risks of failing were significant and the potential benefits uncertain. But we didn't have much to lose and it was (to a certain extent) fun to try.
A lot has happened since then (check our renewed timeline) including several changes of course during our journey since I discovered that running a business is less similar to climbing a peak and more like hang gliding (where the wind may change and you have to adapt to it). In any case, 15 years after Vortex's foundation I must say that we are quite happy with where we are so far.
However, as philosopher Michael J. Sandel once said: "Successful people are tempted to erroneously think that their success is due just to their merits" and I wouldn't like to be caught in such a trap. Yes, it's true that we have had a couple of good ideas and that our brilliant team has worked hard to develop them but, we are where we are now because of the positive response of many nice customers and also thanks to a bit of luck.
Obviously, at Vortex we have not changed the world but, after a decade and a half, I can certainly say that Vortex has changed our world. We happily work in a pleasant company, appreciated by our customers and with a purpose, we can all be proud of. I cannot say that we take care of our employees because Vortex is just us, the employees, and we simply take care of each other. So thanks for these 15 beautiful years Pau, Gil, Jordi, Germán, Elies, Patricia, Abel, Tània, Alex, Oriol, Aina, Serkan, Akgün, Edu, Rafa, Shihori, Natasha, Paula, Albert, Dhanaji, André, Marta, Martín, David, Song… Thanks from the bottom of my heart.