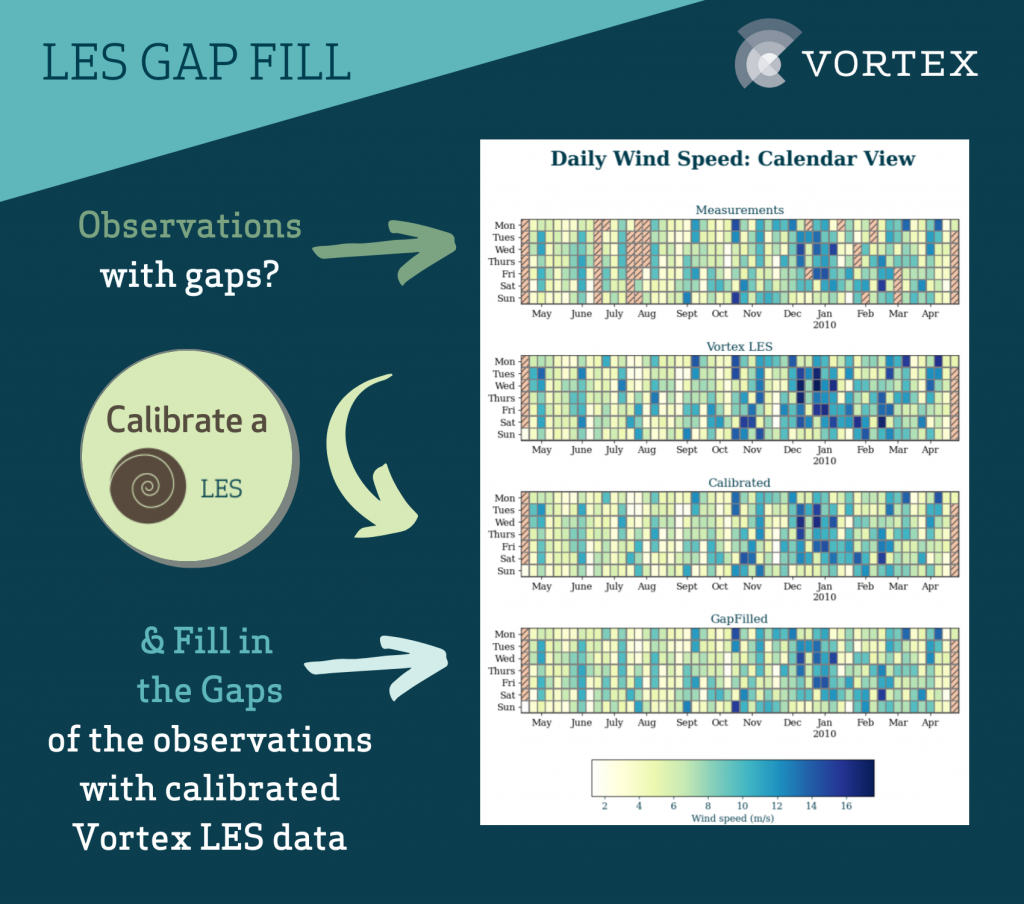 Since 2005, Vortex is a pure synthetic data generation company but our team's background comprises more than 30 years of experience in the Wind Resource and Site Conditions fields. This means that we are very aware that actual wind measurement is essential for the sensible development of any wind farm project.
From first-hand experience, we are also very aware that measurement campaigns suffer from missing data occurrences. Having "gaps" in your measurement time-series is very inconvenient as we all know so at Vortex we are happy to introduce a new approach to such a problem: GapFilling.
While very short gaps can be filled by using persistency arguments (for example, interpolating linearly between available data) when gaps are longer than a few hours that strategy can lead to unrealistic statistics over the whole series.
A robust, independent reference is needed to guide the filling away from the last valid measurements.
The ability of WRF-LES technology to provide 10-minute modeled data makes this virtual time series a good candidate to help to fill the day-scale gaps of measured data and this has been the approach taken by Vortex:
Given a period of the measured data (including its gaps), we compute a Vortex LES time series for the same interval and at the exact same point of the measurements (see headlined scheme).
The available measurements can be used to calibrate the LES time series in order to find and correct systematic errors of the wind speed.
Then the gaps are filled by focusing on correcting the LES wind distribution at every hour to match that of the available observations.
The method also evaluates the persistency of the LES error and modifies the wind speed at every gap considering the LES error made at the previous and following timestamps.
The delivered GapFilled time series covers the LES period and it contains observation values at all available timestamps and calibrated LES values for all other times when LES is available but there are no observations.
Learn more here.